Alpen Capital Investment Bank, Qatar ('Alpen Capital') and The First Investor QSCC ('TFI') recently advised on a complicated M&A transaction which involved structuring, negotiating and acquiring a 50% stake from exiting shareholders in Bin Omran Trading & Contracting Co. ('BOTC') and simultaneously selling the stake to a new investor, Hectar Real Estate Investment WLL ('Hectar'). Alpen Capital advised the Bin Omran Group and TFI advised the incoming investor, Hectar, on the transaction.
BOTC, founded in 1994 by the Bin Omran Group, is one of Qatar's leading contracting companies (A-grade), specializing in road works and drainage related construction works and owns and operates Al Jazeera Asphalt, which produces hot mix asphalt and concrete used in pavements, roads, underpasses and even airfields. BOTC has completed projects worth QR 1.5 billion over the last five years.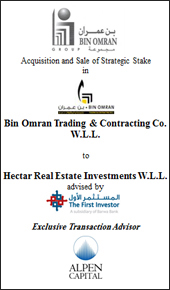 "We are very happy with the new shareholding structure and hope with this impetus the business of BOTC will grow exponentially for years to come. We propose to invest in human resources and machinery in order to enhance its project execution capabilities, as Qatar prepares to invest heavily in infrastructure projects over the next decade." says Omran Al-Kuwari, Managing Director of BOTC
"The First Investor has a strong track record of identifying and executing attractive investment opportunities for its clients and we are very pleased to have been able to successfully advise our clients on this exciting transaction" says David Clarke, CEO of The First Investor
"Alpen Capital is delighted to have been a financial advisor on this complex transaction. We value our relationship with the Bin Omran Group and are privileged to have assisted them in successfully concluding this strategic transaction" says Sanjay Bhatia, Managing Director of Alpen Capital
Alpen Capital began its Qatar operations in early 2008 and since then has been advising on mergers, acquisitions, joint ventures, private equity placements and debt advisory transactions to its clients in Qatar, GCC and India. In addition to Qatar, Alpen Capital Group also has offices in Bahrain, India, Oman and UAE. In all these locations, Alpen Capital functions with its associate Bank Sarasin-Alpen, which is the subsidiary of the Swiss private bank, Bank Sarasin & Co. Ltd, in Switzerland. Both organizations operate through a unique business model where the investment banking activities of Alpen Capital complement the private banking activities of Bank Sarasin- Alpen.
TFI is a leading Shari'ah investment company in Qatar owned by Barwa Bank and regulated by the Qatar Central Bank. It is one of the most respected investment banking firms in the region, combining Qatari leadership with both international and local expertise to provide dedicated services in Investment Banking, Asset Management and Real Estate Investment. Through its strong international network of relationships and deep technical expertise, TFI provides a global approach in helping clients formulate, deliver and manage effective corporate strategies.