Alpen Capital's GCC Food Industry report highlights the growth opportunities in the GCC food sector
All GCC Locations, 1st May, 2013
Alpen Capital today announced the publication of its GCC Food Industry Report which focuses on production, import and consumption volumes of key food segments and their growth potential. It analyses the growth drivers, trends and future prospects for the sector, shedding light on the challenges that could impact the sector's profitability and growth in the future.
"The GCC food sector is likely to experience healthy growth in the medium to long term. Various factors such as rising affluence levels, growing population, urbanization and proliferation of organized retail have fuelled demand for food products in the region. The industry also continues to benefit from increasing government support, foreign investments and private sector participation. Although high dependence on imports poses a challenge for the economy, it creates several opportunities for private sector companies to position themselves and take advantage of the growing demand", says Sameena Ahmad, Managing Director, Alpen Capital
"From an investor perspective, the outlook for the food sector continues to be positive. With favorable demographic factors and stronger balance sheet positions, GCC food companies potentially offer attractive investment propositions for long-term investors. We also see significant M & A activities taking place to satisfy investor appetite which are not just restricted to GCC businesses. There are a considerable number of companies and financial investors beyond the region who are also seizing the opportunities available", says Mahboob Murshed, Managing Director, Alpen Capital
The GCC Food Industry Outlook
Alpen Capital´s latest report on the GCC Food Industry estimates that the per capita food consumption in the region will expand at a CAGR of 3.1% over 2012-17, reaching 49.1 million metric tonnes by the end of 2017. This increase is attributed to the rapidly growing population in the GCC, increase in foreign tourists as well as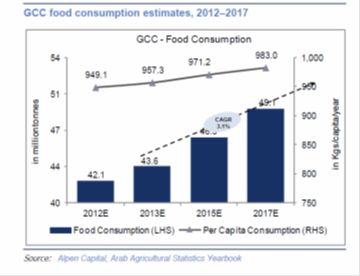 To meet this increasing demand for food arising out of the growing consumption is both a challenge for the GCC governments and an opportunity for private sector players to expand within the GCC markets.
From the consumption standpoint, Saudi Arabia would continue to lead the region's food sector accounting for close to 60% of the total consumption. However, owing to rising population, and increase in tourist arrivals, food consumption growth in Qatar is expected to outpace that of other GCC countries. Qatar will be followed by UAE and Oman in food consumption growth.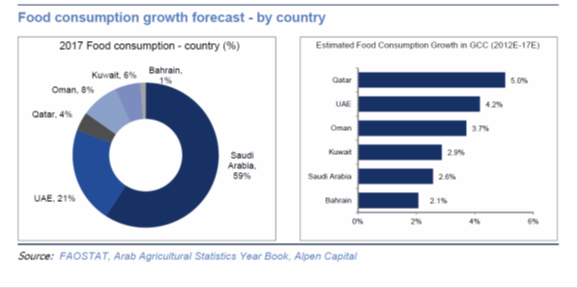 During 2012–2017, even though we expect cereals to maintain their dominant position among food categories, due to rising affluence consumption of protein rich and high value products such as a meat & fruits is expected to increase. During 2012-2017, we expect meat consumption to increase at the fastest pace at a CAGR of 3.9%, followed by fruits, vegetables, milk, and cereals at a CAGR of 3.7%, 3.4%, 3.1% and 2.5%, respectively. Others include pulses, sugar, oil, fish, eggs and potatoes, is expected to grow at a CAGR of 4.0% during the period.
Key growth drivers
There are several growth factors which are expected to drive food consumption in the GCC countries. Strong GDP growth and increasing per capita income is one of the factors that would impact the growth of the industry. Per capita consumption in the region is low compared to that in developed economies and is expected to increase at a relatively higher rate.
Another factor contributing to the growth in food consumption is the expected expansion of the GCC population from 41.7 million in 2010 to 49.9 million by 2017.
Urbanization (and the resultant improvement in marketing and distribution infrastructure) has a profound effect on food consumption. It helps attract large supermarkets (retail formats) and improve access to foreign supplies (imports), thus widening the available range of choices.
Industry trends
Shift in consumption pattern: In line with the global trend, the GCC region is still seeing a changing consumption pattern with a shift to a protein-rich diet that includes meat and dairy products from a carbohydrate-based one that consists of staple food items such as cereals.
Increase in demand for processed food: Increasing urbanization, hectic lifestyles, growing popularity of large food retail formats and presence of multinational food companies in the GCC region are expected to increase the popularity of high-value processed foods among consumers, driving their consumption. Increasing number of hypermarkets, supermarkets, discount stores, and various other forms of organized retail have also contributed significantly to the growing demand for food (particularly processed food) in the GCC region.
Food Processing and re-exports: There is a substantial opportunity for local and international brands with GCC governments supporting the growth of food processing segment especially bakery and dairy products. The GCC especially the UAE with its locational advantage is also emerging as a major food re-exporting hub. Although UAE's food production capability is limited, its strategic location has helped it to be a significant link in the region's food chain.
Demand for health food: While there is a growing awareness and drive about healthy living, obesity rates are high and diabetes is a concern for the region. As a consequence, demand for health food which is high on energy and nutrition is expected to grow. Demand for healthy alternatives such as meal replacement products and low-fat dairy is expected to increase. There is also a rise in demand for organic foods which has been driven largely through the increasing use of agrochemicals and other harmful pesticides, together with growing consumer awareness.
Implementation of Hydroponic technique : Given the benefits of Hydroponics in mitigating hostile agricultural conditions, the GCC governments are working towards implementing this technique for improving agriculture.
Challenges
Unfavorable climatic conditions and limited agricultural resources make the Food industry highly dependent on imports. This issue of food security critical for the region and the Governments need to undertake necessary initiatives to secure food imports for the growing population.
The high dependence on imports also makes the region susceptible to external food price shocks. The increase in food prices in the past few years has put significant inflationary pressure on the GCC economies with consumer price increase reaching double digits during 2008-09.During periods of high inflation, initiatives by the governments to regulate the prices of end products create challenges and reduce margins for local manufacturers as their raw material cost increases.
Opportunities and Recommendations
Alpen Capital in its report recommends certain measures that would help attract higher foreign investments, strengthen food security in the region, and aid overall market growth.
In order to attract foreign investments and increase private sector participation in the food sector, GCC governments could further enhance its initiatives to drive production in the region, by encouraging the use of modern agricultural techniques like organic farming, hydroponics and greenhouse plantations. Increased efforts to acquire foreign agricultural lands and boost contract farming will also help drive food production.
In order to reduce GCC's dependence on imports, the private sector could be used to develop infrastructure for the storage and transportation of food.Increased support for local food processing companies by providing them direct subsidies is another way to support growth of the sector. With rising cases of health related issues in the GCC region (diabetes and obesity), domestic companies could focus on rebranding initiatives besides enhancing their labels to depict food safety and nutritional value.
Please click here to access the GCC Food Industry Report online.