Alpen Capital today announced the publication of its GCC Healthcare Industry Report which includes details on current market trends and challenges faced by the GCC Healthcare sector and the on-going initiatives by GCC authorities to address these issues. The report encompasses profiles of each GCC country and highlights the existing market scenario in the healthcare sector. Finally, the study covers profiles of major publicly-listed and private firms (including details about their performance and market position).
"The GCC region is poised for an unprecedented surge in healthcare consumption driven by robust population growth and rising income levels. Higher income levels and sedentary life styles have led to poor health conditions, a phenomenon that has been witnessed in most developed economies. The governments, which play the predominant role in healthcare services, are taking steps to ensure continuous development of infrastructure through nurturing management skills, increasing the share of private sector and utilizing IT skills to spread the reach and range of healthcare services", says Sameena Ahmad, Managing Director, Alpen Capital
"We are bullish on the prospects of the healthcare industry in the region. On the demand side, rising affordability, lifestyle related diseases, the treatment of which is both costlier and lengthier, and increasing insurance penetration will ensure vigorous rise in healthcare spending in the GCC. On the supply side, the government is taking measures to ensure that the infrastructure is equipped to handle the increasing demand. The government is considering PPP models to bring efficiency while reducing financing burden, along with other measures such as e-health and m-health tools. There is dearth of highly qualified medical practitioners in the region and hence influx of foreign practitioners will continue to remain a trend. Private sector has limited presence in the industry at present but will play an important role in the time to come", says Sanjay Vig, Managing Director, Alpen Capital
The GCC Healthcare Industry Outlook
According to Alpen Capital, the GCC healthcare market is projected to grow at an annual rate of 12.0% to US$ 69.4 billion by 2018 from an estimated US$ 39.4 billion in 2013. Outpatient and inpatient markets are expected to account for 79% and 21%, respectively, of the overall market size.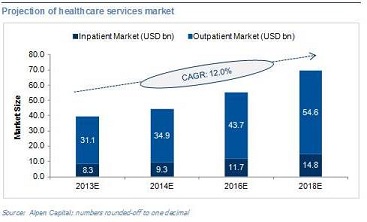 The demand for number of hospital beds is expected to be 115,544 in 2018, an addition of 11,241 beds from 2013, which is in line with the expected supply looking at the number of projects in the pipeline.
Key growth drivers
The IMF estimates that the region's population would cross the 50 million mark by 2020, providing impetus to the consumption of healthcare services.
Rising income levels and sedentary lifestyles have led to a higher prevalence of obesity and diabetes leading to a demand for specialized healthcare services.
GCC population in the age group of 65 and above is expected to surge from 1.2 million in 2015 to 14.2 million in 2050, driving demand for healthcare services. Life expectancy in 2011 for the GCC region stood at 76.4 years against 69.8 and 69.0 for the Arab and BRIC regions, respectively. In addition, infant mortality in the GCC improved from 110 per 10,000 live births in 2000 to 78 in 2012.
While growth in the region's insurance premium outpaces the growth in the global market, the insurance penetration remains one of the lowest in the world.
The region is building large medical cities and complexes, with billions of dollars of investments lined up, to not only raise the supply of medical infrastructure but also raise the quality of healthcare services in the region.
Industry trends
Employee healthcare benefits cost highest in the GCC: Middle Eastern employers spend more on healthcare than their other EMEA counterparts (6.1% compared to 3.9%) and this results from a more comprehensive insurance coverage.
GCC medical cost trends indicate soaring healthcare costs in UAE and Qatar: The GCC countries, especially the UAE and Qatar, have one of the highest growth rates of healthcare costs due to the advent of new medical technologies and longer length of stay, along with better healthcare facilities.
Governments look at Public Private Partnership (PPP) models: PPP models in the GCC continue to be adopted, but is at an early stage. PPP models can help the government not just in terms of reducing the financial burden but also can enhance the quality and range of services as well as spur innovation.
Medical tourism is growing strongly: UAE's medical tourism sector is growing strongly and reached US$ 1.69 billion in 2013 from US$ 1.58 billion in 2012. Dubai Healthcare City (DHCC) is one of the largest healthcare tourist destinations in the region. According to DHCC, they handled around 500,000 patients in 2011, 20% of which were medical tourists.
Newer approaches to manage rising healthcare costs: The GCC governments are increasingly realizing the advantage of technology in reducing healthcare cost and improving quality of services. Online medical consultation and self-diagnosis are some of the other benefits of digital technologies. Moreover, online pharmacy services reduce the time taken to deliver medicines. Another trend in the management of rising healthcare cost is the start of an accountable care model which is being tested in the GCC. Under this system, greater financial responsibility lies with the healthcare provider to limit unnecessary expenditures and provide greater freedom to patients to select medical services.
Healthcare IT spending on the rise: Healthcare IT expenditure in the GCC region is estimated to increase from US$ 444 million in 2011 to US$ 551 million by 2015, with adoption of integrated health records in electronic form, by various governments in the region.
Growth of inbound medical tourism in the GCC: While many medical tourism destinations are emerging, especially in Asia, the UAE and now Oman are among the frontrunners in tapping the growing potential of medical tourism with governments providing special facilities to encourage this trend.
Greater focus on specialized care: Specialist hospitals have been launched, such as the Sidra Medical and Research Center, Al Jalila Children's Specialty Hospital, etc. to stem the outflow of seeking specialist treatments abroad.
Wellness and cosmetics care centres on the rise: The GCC has also picked up on the approach of holistic living to mitigate health risks and has led to the opening up of wellness centres, spas as well as cosmetic surgery.
Emerging trends in healthcare: Upcoming trends in the sector are adoption of an asset light model which facilitates starting new medical facilities at a lower cost, smaller hospital set-ups and encouraging usage of quality local medical treatment in the region.
Challenges
The GCC countries are predominantly dependent on governments for financing healthcare expenditure. With rising healthcare costs, it is imperative for the government to increase private participation.
Quality of healthcare is still not at par with that in the developed countries due to which patients travel abroad, especially for complex treatments.
Due to insufficient medical practitioners present within their countries, the region is reliant on foreign professionals for meeting the rising demand.
Due to lack of stringent guidelines, the minimum quality standards are not met. As a result, patient safety and comfort is compromised. This challenge is also prevalent among public healthcare providers.
The GCC region had a low average insurance penetration level of just 1.1% in 2012, compared to the global average of 6.5%, lagging behind on other key insurance parameters as well.
Recommendations
Increase focus on preventive healthcare management: Increased focus in this area will help to improve health standards and mitigate rising cost pressures.. In this regard, adoption of an accountable care model can help in sensitizing physicians and medical prescribers about the costs involved in each treatment and medication. This can help in 'overuse' of healthcare in certain cases and, in turn, reduce the cost of treatment.
Encourage greater private sector participation: The GCC governments should institute policies and an operating environment more conducive for the private healthcare sector which will ease the financial burden on the government and share its national healthcare spending. Private companies can play an important role in not only providing care, but also offer support by way of financing, supplies, and developing the medical education sector. A robust independent regulatory institutional framework is also required to seek more private sector participation as such a framework could help balance the level playing field between public and private healthcare providers and other healthcare services. A well-balanced regulatory system can mitigate competition for medical staff among private companies as well as the government.
Move closer to Insurance claim-based system: GCC states must gradually move away from a socialistic healthcare system to a more efficient and effective market-based system via insurance cover which will not only reduce healthcare's dependence on government budgets but also create a level playing field. Thus, the government's regulation for mandatory insurance should bode well in raising insurance penetration in the region, which is currently lower than developed countries.
Develop medical education and training infrastructure: To address the shortage of physicians and reduce dependence on foreign medical staff, the government needs to redouble their efforts in training local talent. In view of this, expanding the network of medical colleges takes greater prominence in the region. Promoting medicine as a lucrative career option for students can also help in attracting brighter minds to the sector.
For more details please click here to access the GCC Healthcare Industry Report online.