Alpen Capital (ME) Limited, Dubai was recognised for the sixth consecutive year with the Dubai Chamber CSR Label. H.E. Majid Saif Al Ghurair, Chairman, Dubai Chamber of Commerce and Industry presented the award to Rohit Walia , Executive Chairman and Sameena Ahmad, Managing Director, at a ceremony held at the Chamber head office on 24th September, 2017.
Alpen Capital's CSR framework is an integral part of its business strategy and is reflected in its approach towards employees, vendors, the larger community as well as the environment. Alpen Capital has always shown a strong commitment to inculcating Corporate Social Responsibility (CSR) and Sustainability practices as a part of its everyday work life. In addition to enhancing its ongoing CSR practices, the organisation also looks at new ways to reach out to the community at large.
During his opening remarks, H.E. Majid Saif Al Ghurair, Chairman, Dubai Chamber, highlighted the importance of the CSR Label as a learning and development tool that has enabled so many companies to assess and enhance their CSR and sustainability policies and practices.
"I applaud all the companies that are being recognised for their hard work and commitment in adopting responsible and more sustainable business practices. I congratulate Alpen Capital for achieving this great honour for the sixth time and consistently raising its CSR and sustainability standards within the business community."
"It is a great honour to be awarded with the Dubai Chamber CSR Label for the sixth time in a row. CSR is a very important part of our corporate strategy. We feel it is very important for us to look at the concept holistically be it employee wellbeing, employee engagement, community work, market outreach or environment conservation. We find the framework of the Label very helpful in structuring our CSR and Sustainability outlook for the year as well as measuring our successes in the area .I would like to thank the Chamber for this wonderful initiative which encourages organisations irrespective of their size to build their CSR framework ", says Rohit Walia, Executive Chairman, Alpen Capital (ME) Limited
The Dubai Chamber CSR Label has been designed to provide a diagnostic framework, learning and development tool that will help to refine and improve CSR strategy, policies and practices in the UAE. It provides a clear voluntary standard for CSR implementation in Dubai and elsewhere in the UAE; reviews, evaluates and gives feedback on companies' CSR strategy and actions, and provides the ability for companies to communicate better with stakeholders about their CSR commitment and practice.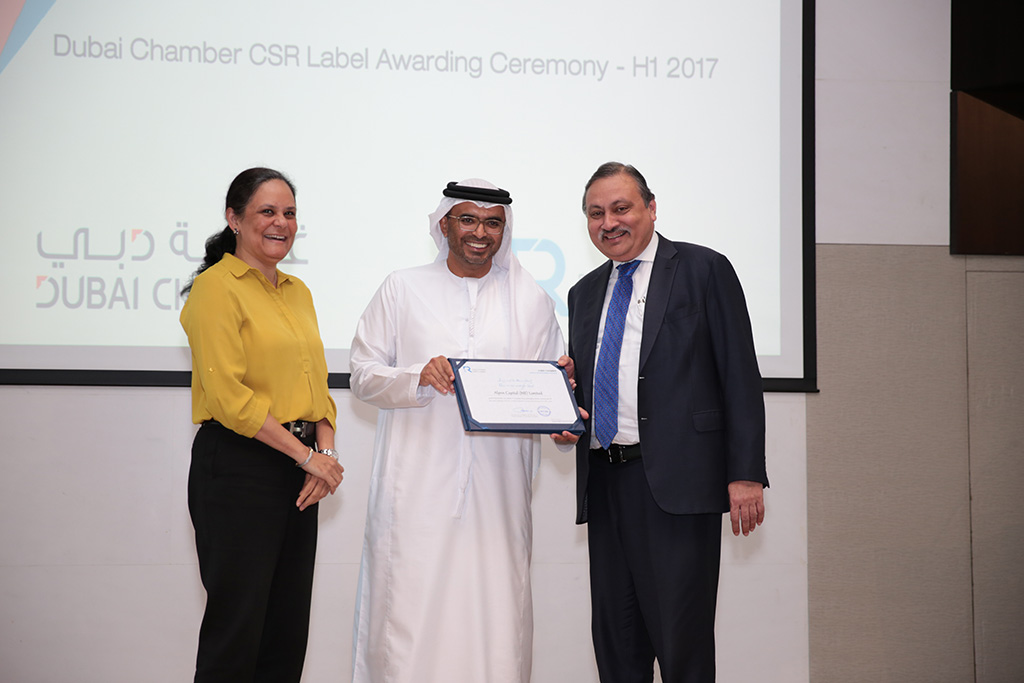 Rohit Walia, Executive Chairman, Alpen Capital (ME) Limited and Sameena Ahmad, Managing Director, Alpen Capital (ME) Limited receiving the Dubai Chamber CSR Label award from H.E. Majid Saif Al Ghurair, Chairman, Dubai Chamber of Commerce and Industry