Alpen Capital, an investment banking advisory firm, announced the publication of its report on the GCC Hospitality Industry. The report presents a synopsis of the demand-supply dynamics and key performance indicators of the hospitality industry across the GCC countries. The report also covers recent trends, growth drivers, and challenges in the industry. It profiles some of the renowned hospitality companies in the GCC and evaluates their financial and market valuation metrics.
"The GCC hospitality industry, which has been under pressure in recent years is expected to gain positive momentum on account of recovery in oil prices, upcoming mega events, increased tourist inflow, positive regulatory initiatives and increased government spending/investments towards the hospitality and tourism sector. GCC countries have well-defined strategies to develop themselves as preferred travel destinations. They are making significant investments into the development of tourism and hospitality infrastructure including airport expansions to increase the handling capacity of anticipated visitor inflow," says Sameena Ahmad, Managing Director, Alpen Capital (ME) Limited.
"The GCC hospitality sector is going through a phase of transition. The industry is gearing up for the huge influx of tourists for mega events. Given positive growth expectations for the GCC economies and for the hospitality sector, we expect the revenue as well as operating metrics of the sector to show a steady improvement. The hospitality industry continues to present interesting opportunities to investors. We expect activities across M&A and private equity funding to accelerate in the coming years," says Sanjay Bhatia, Managing Director, Alpen Capital (ME) Limited.
Industry Outlook
According to Alpen Capital, the GCC hospitality market is expected to grow at a 7.2% CAGR from an estimated US$ 22.9 billion in 2017 to US$ 32.5 billion in 2022. Upcoming mega events and government initiatives to boost tourism are the primary drivers behind this growth.
Growth in hospitality sector revenue of individual GCC countries is expected to range from 6.0% to 12.0%. Both UAE and Qatar are expected to witness high revenue growth on account of significant investment activities in the tourism and hospitality sector for the upcoming Expo 2020 and FIFA World Cup 2022. Bahrain and Oman are also expected to grow at a rate higher than the GCC average.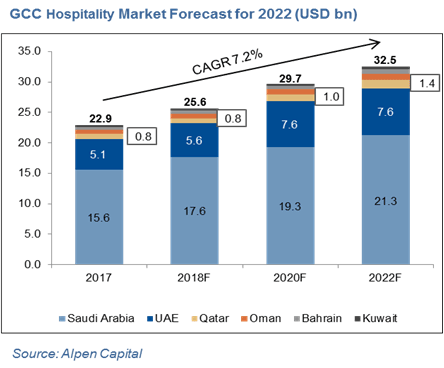 Key operating metrics of the sector, which have been under pressure in the recent past are expected to show a slow but steady recovery supported by the boost in demand. Economic growth and government initiatives leading to increase in tourist arrivals is expected to support growth in occupancy and room rates. Average GCC occupancy is expected to increase from 62% in 2017 to 68% in 2022. ADR is expected to increase at a CAGR of 1.1% to USD 161 in 2022 whereas the RevPAR is expected to increase at a CAGR of 2.9% to USD 109 in 2022.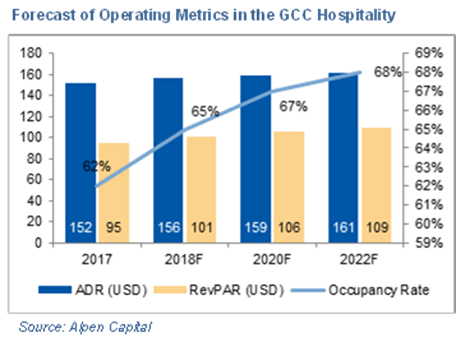 Growth Drivers
GCC countries are expected to witness an improvement in economic performance on account of recovery in oil prices leading to improved sentiment and increase in government spending.
GCC countries have well-defined strategies to develop themselves as preferred travel destinations. They are making significant investments into the development of tourism and hospitality infrastructure including airport expansions to increase the handling capacity of anticipated visitor inflow. This is supported by regional air carriers offering attractive offers and discounts along with exclusive memberships in order to boost tourism activity in the region.
Dubai's World Expo 2020 and Qatar's FIFA World Cup 2022 are expected to attract a significant inflow of visitors into the countries thereby boosting hospitality and tourism industry. These events command a significant supply of hotel rooms to meet the anticipated demand. GCC has a number of infrastructure and hotel projects scheduled to open through 2022 to accommodate the future tourist inflow.
In addition to events, the leisure attractions continue to be a major demand driver for the GCC hospitality industry with over 2,000 projects worth USD 200 bn in the pipeline. GCC MICE market is expected to also play its role in attracting visitors for its conferences and events.
The religious tourism in Saudi Arabia is expected to see a significant increase on the back of expansion projects in Makkah and Medina, supported by Haramain High-Speed rail and the USD 7.2 bn expansion project of King Abdulaziz International Airport (KAIA).
In another significant development, GCC regions are easing visa regulations to promote tourism. Transit passengers are exempt from paying a transit visa fee for the first 48 hours in the UAE. Qatar has allowed visa free entry for citizens of 80 countries. This is expected to give a boost to the tourism and hospitality sector.
Challenges
The GCC countries face competition from each other and also from established tourist destinations like Egypt, Jordan and Turkey in the Middle East and North Africa region and emerging destinations in CIS countries. However, increased investments by the GCC countries' governments in the tourism sectors along with additional initiatives such as easing of visa norms, and a suite of attractive tourist destinations is expected to drive the demand for tourism across the region.
The mid-market hotels are expected to give stiff competition to luxury hotels by offering rooms with basic yet suitable amenities at lower ADRs. Lately, Airbnb has seen early adoption in the GCC hospitality market in 2017 and is expected to penetrate the market further posing a threat to luxury and mid-market hotels.
Geopolitical concerns continue to exist in the GCC region with Qatar facing a trade and travel blockade. Additionally any geopolitical or economic issues in the source markets could also impact the hospitality sector.
Saudi Arabia and UAE were the first two regions to implement Value Added Tax (VAT) on January 1, 2018. VAT and other incidental taxes increase the overall costs for tourists which may impact price-sensitive travelers. UAE cabinet has recently approved a plan to create a refund system for non-resident individuals/tourists to claim VAT back on goods bought in the UAE region to alleviate the negative impact of VAT on tourism spending.
Since some of the anticipated growth in the hospitality sector is linked to mega events, there could be a possibility of oversupply after these events due to lack of any new demand in absence of any new triggers. Absorbing the supply created for the mega events will be challenge for the sector and occupancy levels, ADRs, and RevPAR may be affected in short term immediately after these events.
Trends
The GCC hospitality is expected to witness increased market penetration by mid-market hotel segment through 2022. In addition, the industry is expected to also see increased adoption of Airbnb-type renting models.
The GCC tourism industry has seen a rise in millennial travelers in the last few years and this trend is expected to continue. The millennial travelers opt for experience, authenticity and value-for-money proposition and are more likely to stay at budget hotels as opposed to high-end luxury hotels.
Another significant trend in the GCC has been the growth in home grown brands, Regional players such as Emaar Hospitality, Rotana, CityMax Hotels and Habtoor Hotels are building room inventories and increasing their construction pipelines at a substantial rate.
Mobile applications, smart technology and IoT have caused a disruption in the hospitality market. With every piece of information such as hotel amenities to hotel reviews being available at the fingertip of the consumer, each competitor is trying to differentiate itself in the market to grab the customer's mindshare and the market share.
GCC hospitality industry is going through a phase of transition. With the expected economic recovery of the region, upcoming mega events and the range of initiatives taken by the regional governments to boost tourism, the outlook for the sector remains promising.
Please click here to access the GCC Hospitality Industry Report online.