Alpen Capital announced the publication of its GCC Healthcare Industry report. The report covers the recent trends, growth drivers, and challenges in the industry, along with Alpen Capital's outlook until 2022. It also profiles some of the prominent healthcare companies in the region, highlighting their financial and valuation metrics.
"GCC healthcare industry continues to offer a wide gamut of investment opportunities. Though traditionally regional governments played an instrumental role in building the sector, shrinking oil revenues have slowed spending. At the same time, the role of private sector is increasing, encouraged by government incentives, mandatory health insurance and other reforms. Given the changing demographic and epidemiologic structure, mandatory health insurance, and government initiatives to encourage private sector participation, we expect to see steady growth in private sector investments in the healthcare industry," says Sameena Ahmad, Managing Director, Alpen Capital (ME Ltd).
"Even though regional governments continue to shoulder a sizeable part of the healthcare expenditure, in the backdrop of budget deficits, the importance of private sector participation is being widely discussed across the GCC nations. With increasing opportunities for the private sector, the healthcare industry is witnessing a surge in mergers and acquisitions. The inorganic route is being adopted by new players to enter the market and by existing providers to expand market share, physician practices and medical capabilities," says Krishna Dhanak, Executive Director, Alpen Capital (ME) Ltd.
Industry Outlook
Current Healthcare Expenditure (CHE) in the GCC is projected to reach US$ 104.6 billion in 2022, registering a CAGR of 6.6% from an estimated US$ 76.1 billion in 2017. Expanding population, high prevalence of Non Communicable Diseases (NCDs), rising cost of treatment and increasing penetration of health insurance are the factors auguring growth.
Given the ageing population and an expected increase in the frequency of visits to clinics for treatment and preventive care, the outpatient market size in the region is predicted to grow at an annualized average rate of 7.4% to US$ 32.0 billion between 2017 and 2022. The inpatient market is anticipated to increase at a CAGR of 6.9% to US$ 45.4 billion. Current Health Expenditure on 'Others' is expected to grow at compounded annual average rate of 5.2% during the forecast period. Growing size of population, and rising cost of medicine and ancillary services will be the forces driving the spending on other healthcare services.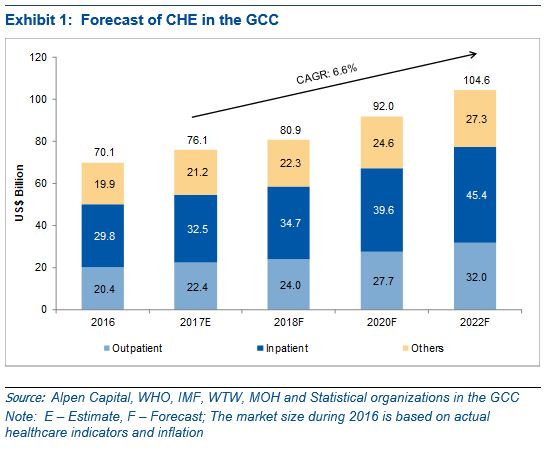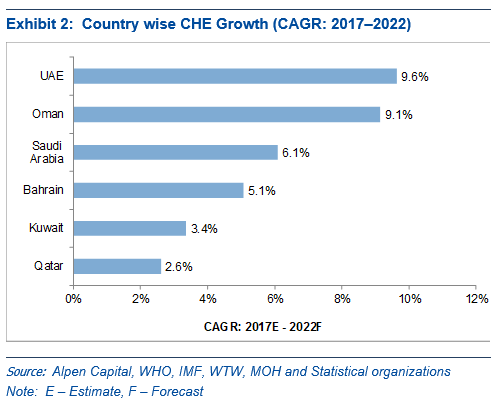 Between 2017 and 2022, country wise CHE is anticipated to expand at annual average growth rates between 2.6% to 9.6%. The growth range is wide due to country-specific projections of population, cost of healthcare and other factors. The UAE and Oman are likely to witness growth rates of above 9%, in anticipation of a fast-growing population, implementation of mandatory health insurance and above regional average medical inflation rates. Saudi Arabia, which is the region's largest market, is expected to see a 6.1% growth in CHE.
In view of the anticipated rise in number of patients, the region is expected to require 12,358 new hospital beds by 2022. This translates into an estimated annual average growth of 2.2% from 2017 to reach a collective bed capacity of 118,295. The high incidence of chronic cases has led to an increase in demand for beds, particularly in specialized areas of care. Although the general hospitals are not running at optimal capacity, the need for beds is rising due to limited availability of specialty hospitals, long-term care centers and rehabilitation centers, among others.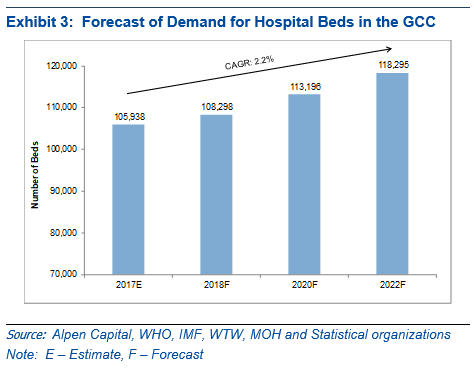 Growth Drivers
Rising and ageing population, increase in life expectancy and low infant mortality rate are the key demographics driving the region's healthcare system. The GCC population size is anticipated to increase by 6.6 million individuals to 61.6 million by 2022, of which nearly 17% will be people aged 50 years and above.
An increase in the incidence of non-communicable diseases has brought about changes in the epidemiological profile of GCC countries. Considering the high cost and length of treating such lifestyle ailments, the healthcare expenditure in the region is expected to rise.
Governments across the region have either made health insurance mandatory or are in the process of doing so. The gradual rollout of compulsory health covers across the region will increase the utilization of medical services at private healthcare facilities.
Regional governments have framed long-term strategies aimed at capacity expansion, enhancing the effectiveness of the delivery system, encouraging public-private-partnership (PPP) models, developing medical education and digitization. Such strategies will upgrade the capacity and quality of care.
The GCC has over 700 healthcare projects worth US$ 60.9 billion in various stages of development. This massive project pipeline is likely to augment the scale of healthcare services over the coming years.
Medical tourism is an integral part of the economic diversification plans of the GCC countries and subsequently has been receiving stimulus from the governments. Dubai and Abu Dhabi are at the forefront amongst the GCC nations in attracting medical tourists.
Challenges
Being largely hydrocarbon-dependent, the fall in oil prices has widened fiscal deficits of the GCC countries, compelling the governments to curtail expenses. With the government shouldering a large part of the CHE, a low-price oil environment had inhibited the growth of healthcare sector.
Another major challenge faced by the healthcare providers is the limited availability of skilled healthcare professionals. An inherent shortage of professionals locally, nationalization of jobs, high attrition and rising staffing cost are hindering growth.
The cost of healthcare has been rising due to growing incidence of lifestyle diseases, technological advancements and limited availability of specialized care. Gross medical inflation rates ranged between 5.0% and 12.0% in the GCC countries during 2017, with the UAE witnessing the highest rate.
The GCC healthcare system has limited capacity and technology to treat ailments such as cancers, neurological disorders and cardiovascular diseases. This has led to locals and expatriates travelling overseas for specialized medical treatment.
Some of the hospitals and clinics in the region lack reporting methods related to quality, patient experience and leading international practices, resulting in an inconsistent quality of services.
Trends
The rapidly growing prevalence of lifestyle diseases and ageing population are prompting investments in long-term and post-acute care rehabilitation (LTPAC), specialized clinics and home healthcare providers.
To reduce incidences of lifestyle diseases and associated costs, the regional governments are devising ways to encourage preventive care. People in the region are also turning health conscious and proactively conducting annual medical checks/screening. This is leading to a systemic change from curative care to preventive care.
Technology will remain the core factor in upgrading the GCC healthcare sector over the coming years. Technologies such as electronic health records, e-visits, telemedicine, connected medical devices, robotic procedures, health monitoring wearables and health analytics are gaining acceptance in the region.
In conclusion, an ageing population, the high incidence of NCDs, a focus on preventive care and quality enhancing reforms are reshaping and strengthening the GCC healthcare industry. The sector is offering immense potential in areas of specialized care, technology, primary healthcare care and medical tourism. The opportunities coupled with a friendly business climate are encouraging investor interest in the healthcare industry.
Please click here to access the GCC Healthcare Industry report online.