Alpen Capital (ME) Limited, Dubai-headquartered investment banking advisory firm, announced the publication of its report on GCC Retail Industry for the year 2019. The report provides a comprehensive overview of the GCC retail sector and outlines the recent trends, growth drivers and challenges in the sector. It also profiles some of the renowned retail companies in the region.
"The GCC retail industry has witnessed challenging times in recent years but the long-term fundamentals of the sector remain intact. Alpen Capital anticipates that the GCC retail sector is likely to regain momentum, owing to strong fundamentals that include an expanding population base, high GDP per capita and growing tourism in the region. Economic recovery led by improving oil prices is expected to revive consumer confidence and improve discretionary spending. Initiatives taken by the GCC governments to stimulate retail infrastructure projects and ease business and visa regulations should provide further impetus to the retail sector", says Sameena Ahmad, Managing Director, Alpen Capital (ME) Limited.
"Changing consumer preferences and the rising adoption of e-commerce platforms are transforming the region's retail landscape. Although challenges remain due to the current economic factors, we anticipate that the sector will see growth over the next five years. Initiatives taken by the GCC governments to stimulate retail infrastructure projects and ease business and visa regulations should provide impetus to the retail sector. We saw several intra-regional and cross border M&A transactions with a significant focus on e-commerce/online retailing space in the last two years. We expect to see continuing activity in the M&A sphere as retail companies look for new opportunities for expanding their market base and size", says Krishna Dhanak, Executive Director at Alpen Capital.
Industry Outlook
According to Alpen Capital, the size of the GCC retail sector is projected to grow at a CAGR of 4.0 per cent from US$ 253.2 billion in 2018 to US$ 308.0 billion in 2023. Retail sales have been under pressure in the recent years but are estimated to recover and grow through 2023.
The growth in retail sales is expected to be driven by increase in population, rise in GDP per capita and an evolving tourism landscape. It is expected to be further aided by the recovery in the oil prices improving the macroeconomic stability and targeted government initiatives such as reviving infrastructure projects, allowing 100 per cent foreign ownership in retail sector and ease in visa regulations for tourist arrivals. Additionally, the upcoming mega events in the region will further propel the growth in retail sales.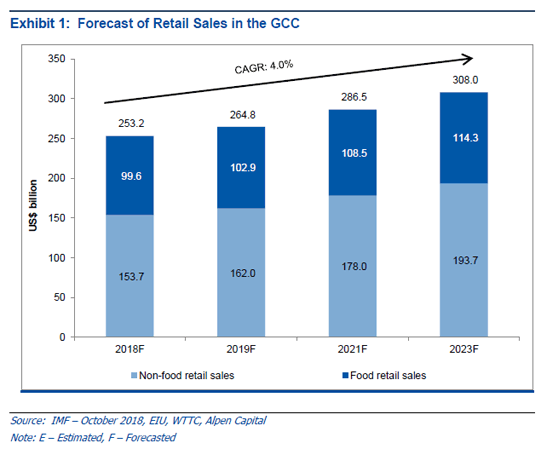 The retail sector is undergoing significant changes with the emergence of e-commerce across the GCC countries. The rise in the number of millennials, working women and expatriate population is driving demand for consumer goods, especially international branded products and global food concepts. Consequently, the non-food retail sales are anticipated to grow at an annualized average of 4.7 per cent between 2018 and 2023, while food retail sales are expected to increase at a CAGR of 2.8 per cent during the forecast period.
Country-wise Retail Sales
During the forecast period, the annualised growth in retail sales in the GCC nations is projected to range between 2.2% and 5.1%. UAE, Kuwait and Qatar are expected to record faster growth driven mainly by increase in tourism activity, GDP per capita and penetration of organized retail stores. The UAE and Saudi Arabia are expected to continue to dominate the retail sales in the region, cumulatively accounting for 76.9% of the total retail sales in 2023.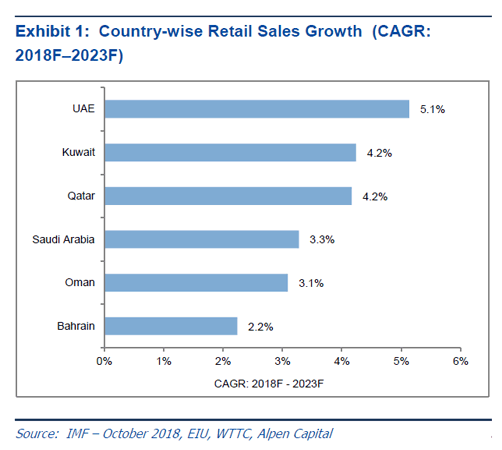 Airport-based Duty-Free Sales
Duty free sales at the Dubai, Abu Dhabi, Doha and Bahrain airports are projected to reach US$ 4.8 billion by 2023, implying an annualized growth of 8.8% from 2018. The strong growth could be attributed to an anticipated rise in passenger traffic due to mega events such as World Expo 2020 and the FIFA World Cup 2022. Moreover, the region also has a wide gamut of attractions to offer to international travellers across various sectors such as leisure & entertainment, sports, festivals, MICE (Meetings, Incentives, Conferences, and Exhibitions).
Luxury Retail Sales
Retail sales of personal luxury goods in the Middle East, primarily led by the GCC nations, is forecasted to grow at an annualised rate of 4.0 per cent during the forecast period. The recovery in oil prices and the subsequent economic revival is expected to lead to growth in GDP per capita, consumer spending power and increase in tourist arrivals. These factors, coupled with the initiatives taken by the GCC governments to crack down on counterfeit products, will drive demand of luxury products across the region.
Supply Side Estimates – Organised Retail Sales Area
At 80% completion of projected additions to the retail space, 5.2 million sq m of retail space is likely to come up in the GCC in the five years to 2023, taking the total organized retail gross leasable area (GLA) to 20.4 million sq m, which may create an oversupply situation.
Growth Drivers
Favorable Demographics: The GCC population is expected to grow at an annualized rate of 2.3% between 2018 and 2023. An expanding consumer base, dominated by the high proportion of expatriate, youth and working-class population is considered the key driver for the retail sector.
High Consumer Spending Power: The GCC, home to some of the wealthiest nations in the world, had an average GDP (PPP) per capita of US$ 26,401 as of 2017. GDP (PPP) per capita (at constant prices) in the GCC is projected to expand at a CAGR of 0.4% during the forecast period. Going forward, an anticipated recovery in economic conditions is likely to improve consumer sentiments and spending.
Growth in Tourism: The tourism industry is expected to witness steady growth, primarily driven by government initiatives to ease visa norms coupled with rising investments towards leisure attractions. Mega events such as World Expo 2020 in Dubai and 2022 FIFA World Cup in Qatar coupled with an anticipated rise in religious tourist arrivals in Saudi Arabia are likely to boost tourism activity.
Retail Infrastructure Developments: Several large-scale malls and shopping centers are currently under development in the GCC, amid governments' and private players' investments in developing infrastructure to complement the growing population, a rising tourism sector and increasing per capita income.
Increasing Adoption of Ecommerce: The retail e-commerce market in the GCC continues to expand given the increasing penetration of smart-phones and use of social media platforms. Moreover, better access to secure payment gateways and gradual improvement in logistics capabilities is increasing penetration levels resulting in the growth of the industry.
Challenges
The extended period of low oil prices led to a number of challenges for the GCC region prompting governments to undertake bold decisions to focus on fiscal consolidation through subsidy cuts and curtailing public spending. This led to scaling back of infrastructure projects, rationalization of costs across sectors and a slowdown in consumer spending.
The rising number of international brands operating in the region has intensified competition within the retail market. Retailers are adopting aggressive promotional campaigns by offering discounts to further drive revenues. Although such strategies should increase top-line growth, it has led to margin pressures.
Rising penetration of high-end retailers and demand for retail space have increased the rental rates in most of the GCC countries, especially the UAE. Additionally, retailers are also pressurized by the new labor localization laws, market-priced utility costs, and new tax measures such as VAT.
The introduction of VAT has had an adverse impact on the consumers' purchasing power; several retailers decided to absorb the tax to continue to attract sales.
The retail market in the UAE and Qatar is currently facing an oversupply situation, which could lead to delays in completion of upcoming projects. Growing vacancy rates in some of the major retail malls, competition between new malls for tenants, coupled with the emergence of new supply in both the countries may drive down rental rates across the market.
Counterfeit products of genuine brands continue to be concern for the GCC retail industry, eroding profit margin and image for international brands.
Trends
Omni-Channel Business Models Gaining Prominence: With the rising adoption of smartphones, internet penetration and other digitized services, retailers in the GCC are exploring omni-channel business models. Favourable e-commerce regulations, especially in the UAE and Saudi Arabia, are also supporting the growth in this segment.
Next-Gen Digitization Strategies to Form the Future of Retail GCC retail industry is set to witness a significant transition with the likely introduction of Artificial Intelligence (AI), Augmented Realty (AR), Virtual Reality (VR), Image Recognition and Computer Vision Technologies. This enhancement of technology could improve margins and customer centricity, and enable better understanding of changing consumer preferences with the use of data analytics.
Growing Preference for Private Labels Private labels are gaining popularity and have emerged as an important source of revenue for large supermarkets and hypermarkets. Additionally, the recent slowdown in economic activity in the GCC emerged as a driver for retailers to push private labels due to change in consumption patterns.
Rising Demand for Healthy and Organic Food Concepts Sedentary lifestyles, poor food habits and dietary choices have led to a higher prevalence of diabetes, cardiovascular disease, obesity, and other conditions in the GCC population. As a result, demand for healthy and organic food concepts is growing and gaining popularity in the region.
The GCC retail sector witnessed healthy deal making activity over the last two years, both intra-regional and cross border transactions, with a significant focus on e-commerce/online retailing space. Despite challenging times, long-term fundamentals such as economic revival, expanding consumer base, increase in tourist arrivals, mega international events and a growing e-commerce market will drive moderate growth in the GCC retail sector.
Please click here to access the GCC Retail Industry Report online.