Alpen Capital (ME) Limited announced the publication of its report on the GCC Healthcare Industry for the year 2020. The report provides a comprehensive overview of the GCC healthcare sector and outlines the outlook, recent trends, growth drivers and challenges in the sector. It also profiles some of the prominent healthcare companies in the region.
"GCC healthcare industry has witnessed unprecedented challenges over the past couple of months due to the pandemic. However, with exceptional planning and fiscal support from the regional governments the sector has maintained a moderate growth momentum. Increasing life expectancy at birth, improvements in infant mortality rate and an ageing population are the key demographics expected to drive the region's healthcare system. Technological advancements and digitization will also play a crucial role in driving growth and improving operational efficiencies," says Sameena Ahmad, Managing Director, Alpen Capital (ME) Ltd.
"GCC governments are encouraging the involvement of private players through public-private-partnership model in order to ease the burden of healthcare expenditure amid the economic slowdown. Consequently the sector has seen robust M&A activity over the last two years, specifically in the UAE and Saudi Arabia. While the region observed a handful of cross-border acquisitions, there were several intra-regional deals as companies are looking to offer integrated services and increase market share. Health systems are also looking to scout for inorganic growth opportunities to further diversify their offerings. The region is likely to show high interest in acquiring stakes in LTPAC and home healthcare services," says Krishna Dhanak, Executive Director, Alpen Capital (ME) Ltd.
The GCC healthcare sector is currently undergoing transformation at an unprecedented pace and scale. The ecosystem is not only moving from curative to preventive care but also adopting a value-based and integrated delivery model. Of the total US$ 63.7 billion healthcare spend in 2017, 72.7% (USD 46.3 billion) was financed by the governments, as the sector remains one of the most critical avenues for the region's long-term economic diversification strategy. Saudi Arabia and the UAE represented around 56.3% and 20.0% respectively, of the region's healthcare market in 2017.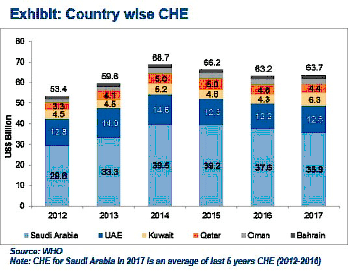 The pandemic has had a profound impact on the GCC, as the region is not only contending with COVID-19 but also dealing with lowest oil prices in past 17 years. However, the nations were quick in their response to the crisis and exponentially ramped up its testing capacity, exceeding some advanced nations, which led to rapid identification, quick treatment for those affected, and immediate isolation to prevent the spread. The region altogether announced stimulus package of US$ 122.5 bn to support the economy in recovering from the pandemic.
Industry Outlook
COVID-19 has changed the global healthcare landscape within a span of few months. Although the sector has shown more resilience compared to other industries, healthcare systems struggled to cope with the sudden surge in demand for COVID-19 related services which significantly strained their revenue streams. Amid a continued fall in regular care services, demand for virtual care solutions such as telehealth and remote patient monitoring has helped reduce the adversity to an extent. This, in turn, has compelled providers to immediately ramp up investments in digitization to drive future growth. It has also necessitated the need to upgrade existing infrastructure to better prepare for any potential severe outbreaks in the future. Once the crisis abates, the region will be better positioned and the sector is likely to witness a V-shaped recovery as demand for care soars.
Alpen Capital anticipates five investment focus areas for the sector going forward -
Primary and intensive care
Integrated healthcare system
Digital and technological infrastructure including AI, Big data analytics and automation
Acquisitions and consolidations to achieve efficiencies in specialized care
PPP models emphasizing on regulatory reforms
Growth Drivers:
Post Pandemic Recovery: According to IMF, the region is expected to rebound over the next two years with the GDP likely to see a 2.3% and 3.5% growth in 2021 and 2022, respectively, as the COVID-19 situation normalizes. The unprecedented reforms and effective responses to curb the rising cases coupled with strong emphasis towards economic diversification and private sector participation will aid economic growth in the long run.
Favorable Demographics: Improvements in infant mortality rate, increasing life expectancy at birth and an ageing population are the key demographics driving the region's healthcare system. The GCC's population is expected to grow at a CAGR of 2.3% between 2020 and 2025 while the older population (aged 50+) is expected to grow at a CAGR of 6.9%.
High Prevalence of NCDs: Sedentary lifestyles, poor food habits and unhealthy choices have led to a higher prevalence of diabetes, cardiovascular disease, obesity, and other chronic conditions in the region. In the GCC, most countries have obesity rates higher than the recommended levels by the WHO, while diabetes prevalence was recorded at 14.27% of the total population as of 2019. The rise in such chronic ailments is likely to increase the demand for specialized healthcare facilities and a more skilled workforce.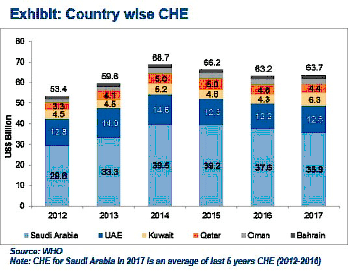 Mandatory Health Insurance: The gradual rollout of compulsory health covers across the region will increase the utilization of medical services at private healthcare facilities. Such reforms are expected to drive the GCC's insurance market to US$ 25.5 billion by 2025.
Strong Project Pipeline: The region has an estimated 161 healthcare projects with a combined value of US$ 53.2 billion under various stages of development. Upon completion, these projects are expected to add more than 40,326 beds to the region's existing capacity.
Inbound Medical Tourism: The GCC countries continue to promote the region as a hub for medical tourism as part of their economic diversification plans. Accordingly, the GCC medical tourism market is expected to reach US$ 28 billion by the end of 2024, growing at a CAGR of 8.8% since 2018.
Challenges
Economic Slowdown: Due to the sharp correction in oil prices, the regional governments have come under increased pressure to aid the healthcare sector in terms of spending. IMF estimates the GCC economy to shrink by 6.0% in 2020.
COVID-19 Eroding Private Sector Profits: Demand for primary and secondary care, dental services, mental healthcare, elective surgeries and allied health services have contracted significantly due to COVID-19. It has led to around 8 million fewer patient contacts per week in the region, hampering profitability for many operators.
Shortage of Medical Professionals & Healthcare Institutes: COVID-19 has intensified the burden on the region's limited healthcare resources. With the accelerated development of medical cities and hospitals underway, the need for skilled medical professionals is expected to rise.
Limited Specialized Care Centers: Despite a growing healthcare sector, GCC countries experience supply gaps for a number of specialty segments such as cancers, neurological disorders, cardio surgeries, etc. As a result, outbound medical tourism for such complex cases has been on the rise, creating a huge strain on government budgets.
Rising Cost of Healthcare: Cost of healthcare continues to rise due to growing demand for treatment of complex conditions, rising cases of NCDs and other chronic conditions amid limited specialized centers. Gross medical inflation rates ranged between 3.5% and 9.1% in the GCC countries during 2020, with Saudi Arabia witnessing the highest rate. In UAE medical inflation increased to 9.0% in 2020 from 5.8% in 2018.
Trends
Greater PPP Involvement for Healthcare Infrastructure Development: Privatization of hospitals and allied services remains at the forefront of the GCC governments' economic diversification agenda. In order to bridge the demand-supply gap amid rising healthcare needs, regional governments are actively encouraging the involvement of private players through PPP model.
Increased Focus on Preventive Care: To reduce the incidence of lifestyle-related diseases and in turn ease the burden on hospitals, regional governments are focusing on preventive care. The UAE government is encouraging initiatives such as free screening for early detection of breast cancer and diabetes in collaboration with the private sector.
Growing Prominence of LTPAC and Home Healthcare Services: These services are gaining popularity within the region as they are less expensive and a preferred option for aged patients as treatment is enhanced at the comfort of home.
Focus on Specialized Centers of Excellence: Given the high demand for complex healthcare services in the region future investments in the health sector are focusing on the provision of specialized treatments.
Technology Driving Enhanced Healthcare Outcomes at Lower Costs: GCC countries have been investing heavily in healthcare IT such as e-Visits, EMR/EHR, data analytics, and mobile applications. Innovators are also leveraging new and advanced technologies such as artificial intelligence, machine learning, blockchain, augmented reality/virtual reality, cloud computing and big data analytics to create faster and more efficient healthcare tools.
Shift to Value-Based and Customer-Centric Healthcare Models: The GCC is witnessing a shift in its healthcare system from a 'fee-for-service' to a 'value-based' healthcare model that focuses on enhancing treatment outcomes while lowering costs.
Rise in Cosmetic and Wellness Care Centers: Rising health awareness, along with evolving consumer preferences and habits, have resulted in a coherent growth of interest in the health and wellness market. UAE remains the hub for wellness tourism, with the country recording 53% more income by its health and wellness-centered tourism as compared to traditional tourism.
The GCC Healthcare industry is expected to witness a boost in investments to meet the growing demand owing to the pandemic. Additionally, a post pandemic expected economic recovery coupled with favorable policy changes will offer interesting opportunities to encourage investor interest.
Please click here to access Alpen Capital's latest report on the GCC Healthcare Industry.