Alpen Capital (ME) Limited announced the publication of its report on the GCC Education Industry for the year 2021. The report provides a comprehensive overview of the GCC education sector and outlines the outlook, recent trends, growth drivers and challenges in the sector. It also profiles some of the prominent education companies in the region.
"COVID-19 has caused significant disruption to the GCC education industry but governments and operators have been swift in their response in terms of policies, initiatives, teaching methods and business models to ensure continuity of education. The pandemic has placed integration and utilization of technology within the education system at the forefront and the sector will continue to innovate and evolve. We believe that factors such as an increase in school age population, high disposable incomes, influx of private schools and continued support from the GCC governments will aid to build a robust education system and continue to drive enrolments. Despite intensifying competition, shortage of skilled staff and increasing cost pressures amid a slowdown in economy, the pandemic has opened interesting opportunities for private players, particularly in the areas of EdTech and blended learning models," says Sameena Ahmad, Managing Director, Alpen Capital (ME) Ltd.
"The education sector remains a central focus for GCC nations as the need for evolution from an oil-reliant economy to a diversified one has necessitated an education system that matches international standards. The unprecedented efforts taken by the industry stakeholders and governments during COVID-19 has led to a prioritization of long-term growth strategies at a macro level," says Krishna Dhanak, Executive Director, Alpen Capital (ME) Ltd.
He further adds that, "The GCC education sector continues to be fragmented with several size and types of operators catering to a wide population with varied preferences. Consequently, the industry witnessed healthy M&A activity over the last two years, with several nations strongly advocating privatization and others opening up the sector for foreign ownership. As the education landscape continues to mature in the region, we believe that the recent developments in its geopolitical relations, supplemented by a post pandemic economic recovery and government initiatives and policy changes, will result in new investment avenues for investors across the sector."
COVID-19 has disrupted the global education system as nearly 1.6 billion students in more than 190 countries were affected by school closures. GCC nations are making unprecedented and potentially permanent changes to both teaching methods and business models amid the pandemic. The approaches to ensure continuity of education were digital instruction, home schooling programs, using public TV and radio broadcasting channels.
Student enrolments in the GCC across various education segments crossed 12.2 million in 2019 owing to governments' support, favorable demographics and influx of private school operators. While the gross enrolment rate for the primary and secondary segments remained above 100%, growth was driven by rise in enrolments in the pre-primary and tertiary segments at a CAGR of 3.7% and 1.9%, respectively, between 2014-2019. Total enrolments in private schools reached 2.4 million in 2019, growing at higher pace than the public school enrolments.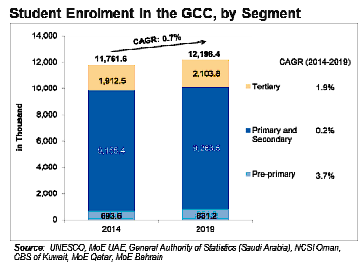 Industry Outlook
In the GCC, transition to online learning has been relatively smooth for most private institutions and governments are also ensuring that the public establishments adapt equally. The pandemic has compelled educational providers to realign their business models while ramping up investments in digitally aided education platforms to drive future growth and improve operational efficiencies. GCC countries have also stressed the need to upgrade existing infrastructure to better prepare for any potential outbreaks in the future. Utilizing technology, optimizing operations and cost-savings will be crucial in aiding sustainability and growth in the medium to long-term.
Alpen Capital anticipates five investment focus areas for the sector going forward –
EdTech and digital learning: COVID-19 has highlighted the lack of technology integration into the education system. Building a strong technology infrastructure will not only create a robust education system but also open it up for investment opportunities.
Blended learning and personalized models: The education sector is witnessing a momentous shift in structure leading to 'blended learning' as a preferred education model. New learning methods based on infusion of experiential and collaborative learning with a mix of online and in-person elements are likely to attract higher investments.
Privatization amid spending constraints: The industry is expected to witness reduced spending from the government amid the pandemic induced economic slowdown. To relieve the budgetary strain and concentrate on regulatory reforms, governments are expected to further open up the sector for foreign ownership and adopt to PPP models. It will also foster overall quality, infrastructure and economic stability in the region.
Emerging hub for tertiary education: GCC governments as well as private players are heavily investing to provide quality tertiary education, to retain talent within the region and make the sector self-sufficient. Moreover, the establishment of branches of renowned universities in the region along with the appeal and safety to enroll closer to home is expected to drive enrolments.
Acquisitions and consolidations to create better synergies: The GCC education sector remains a fragmented market with several size and type of operators catering to a wide population with varied preferences. Demand-supply imbalance, enforced implementation of technology and fee reductions have impacted profitability and revenues of operators. Hence, M&A in the sector will help create better synergies, improve cost margins and increase management efficiency.
Growth Drivers:
Alpen Capital expects the GCC education sector to continue to grow on the back of robust drivers-
Post Pandemic Recovery: The GCC economy is expected to rebound over the next two years with the GDP to see a 2.3% and 3.5% growth in 2021 and 2022, respectively, as the COVID-19 situation normalizes. This is likely to drive recovery in the education sector as physical education resumes and operators evaluate expansion plans that were otherwise put on hold due to the pandemic.
Regional Attractiveness Spurring Avenues for Growth: Amid the COVID-19 crisis, the GCC has witnessed improvements in its geopolitical relations and economic stability. These developments are likely to improve trade prospects and highlight the potential to generate revenues through intra-regional deals.
Growing Youth Population: The GCC K-12 school age population, aged 0-18 years, is expected to reach 16.3 million by 2024, growing at a CAGR of 1.3%, while the population aged 19-23 years is projected to grow at 0.6% CAGR to reach 3.9 million by 2024. The anticipated rise in school and college age population will drive enrolments in the sector.
High Per Capita Incomes Driving Demand for Quality Education: Between 2016 and 2019, GDP per capita (US$ current prices) in the region grew at a CAGR of 3.5% to reach an average of US$ 33,010. In contrast, the global average GDP per capita stood at US$ 11,557 for the same period. Rising per capita income has increased the ability of the GCC population to spend on quality education.
Influx of International Schools Leading to Curriculum Expansion: Need for quality education by the expatriate population as well as aspiring citizens, is fueling the demand for international schools in the region. With the rise in number of international schools, several curricula such as British, American, Indian, IB, Canadian, French, and German are gaining prominence.
Government Initiatives to Boost Education Landscape: The focused efforts by the GCC governments, coupled with increased participation by the private sector, is transforming the education sector. Subsequent improvement in quality and management is likely to enhance overall operational efficiencies, thereby attracting higher investments and increased enrolments in the region.
Challenges
Despite the outlined growth factors the GCC education industry continues to witness some challenges which could hamper its development.
Support from GCC governments is vital for the growth of the GCC education sector. However, amid lower revenues and fiscal strains due to the pandemic, the governments have come under increased pressure to aid the education sector in terms of spending. This could potentially slowdown the pace of growth in the sector.
The influx of international institutions and oversupply of local education providers has elevated competition among private operators. Fee reductions, establishing digital and virtual learning platforms, implementing blended learning structures and acquiring new technological expertise have resulted in lower revenues, which has put the operators under pressure. Inherent shortage of skilled teachers and preference for tertiary education in overseas destinations are also hampering growth of the sector.
Trends
The region is seeing high adaptability and scalability in education solutions powered by innovative technological tools amid the pandemic. While EdTech has become an indispensable part of the education system in the GCC, new remote learning opportunities are emerging where traditional educational providers partner with digital conveyors.
Several foreign colleges and universities, especially from the UK and the US, have started establishing their base across the GCC, encouraging students to pursue higher education and a career within the region. There is also a GCC-wide shift in educational paradigms, emphasizing STEM education with focus on technologies such as AI, IoT and robotics. The changing job landscape has evoked the need for a more specialized and dynamic skill set, which has led to an uptick in the demand for higher education, in these specialized fields.
Growing number of school operators offering premium education compared to those offering quality education at affordable prices, has created a supply imbalance. Additionally, in the wake of COVID-19 and its consequent economic repercussions the demand for affordable schooling has been further exemplified.
The GCC Education industry has entered a phase of significant technological transformation and is expected to witness a boost in investments to meet the growing demand owing to the pandemic. Going forward the industry is expected to witness increased collaborative measures and investments in digitization to create better synergies and improve operational efficiencies.
Please click here to access Alpen Capital's latest report on the GCC Education Industry.