February 2017
An expanding multi-ethnic, young and affluent society, supplemented by a growing tourism sector continue to drive the GCC region's appetite for food. Furthermore, fast-paced lifestyle and gastronomic diversity of the region have led people to develop a penchant for packaged and international foods. To meet the growing demand, several food processing units, restaurants and modern grocery retail outlets have been establishing presence in the region. Newer food service channels such as mobile trucks and online retail and delivery platforms are also making inroads. Beyond these driving forces, the regional governments' efforts to adopt new farming practices, develop domestic livestock projects and secure farmlands abroad are reinforcing the GCC food landscape.
Industry Outlook
According to Alpen Capital, Food consumption in the GCC is expected to expand at a CAGR of 4.2% from an estimated 48.1 million MT in 2016 to 59.2 million MT in 2021. This growth is primarily attributable to increase in the consumer base coupled with a higher per capita income, as the GCC economies stage a sustained economic recovery from the recent downturn.
Respective share of most of the food categories in the overall consumption are anticipated to remain broadly unchanged through 2021 with cereals as the most consumed food category in the region.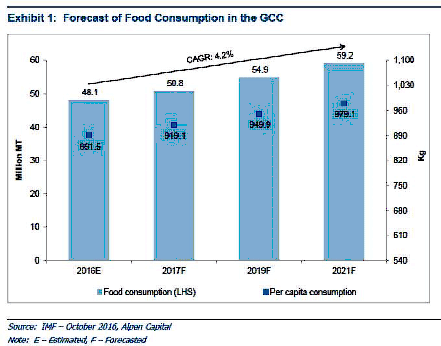 Saudi Arabia and the UAE are likely to remain the major food consumption centers during the forecast period. The country-wise share in total GCC food consumption is anticipated to remain largely unchanged until 2021.
During the forecast period, food consumption in Saudi Arabia is expected to grow at an annualized average rate of 4.2% to 37.7 million MT and that in the UAE is projected to grow by 4.4% to 10.1 million MT. The expected growth rates largely mirror the population and GDP projections for the countries.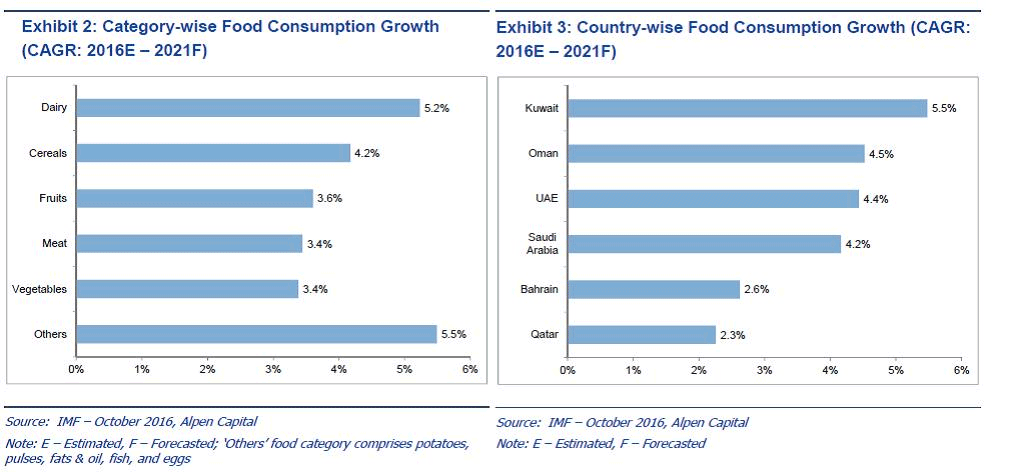 To download the report, please click here.