December 2017
The GCC insurance sector maintains resilient growth, given the significant penetration gap compared to the advanced economies and despite challenges such as drop in oil prices and reduced, public and business spending. Nevertheless, developing regulations, economic diversification efforts, mandatory health insurance and favorable demography present a bright outlook for the sector. The GCC Insurance industry is stepping into the next phase of growth, fueled by rising insurance awareness, economic revival and infrastructure developments and an expanding consumer base. Further, the maturing and stringent regulatory environment is likely to create strong, stable and sustainable business models
Industry Outlook
According to Alpen Capital, the GCC insurance market is projected to grow at a CAGR of 10.9% from US$ 26.2 billion in 2016 to US$ 44.0 billion in 2021. This projection is based on existing fundamentals of the industry and economic outlook.
The growth in GWP is likely to be moderate in 2017, as the industry players are adapting to the new regulations amidst increasing competition and recovering economic activity. On one hand, increased capitalization requirement and actuarial pricing are improving the financial performance of insurers and on the other hand, the regulations are encouraging consolidation activity.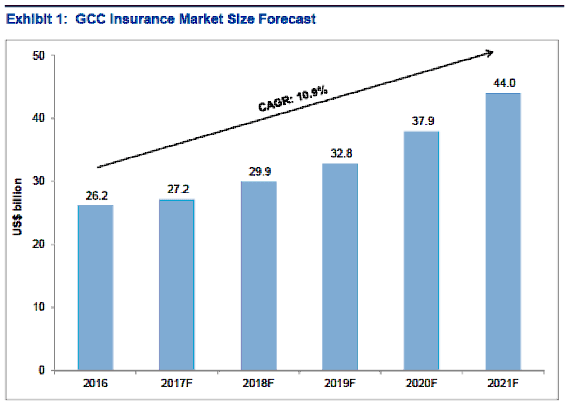 Country wise forecast
Between 2016 and 2021, insurance markets in the UAE and Oman are anticipated to grow at the fastest annualized average pace of 12.1%, followed by Saudi Arabia at 10.5%.
The premium growth in Oman is likely to be driven largely by the introduction of mandatory health insurance and that in the UAE by new motor insurance pricing regime. Additionally, macro factors like population growth, infrastructure developments and revival of business activity will aid growth across the countries. While the market rankings of the countries are not expected to change through 2021, the share of UAE and Oman are likely to expand and that of others may contract.
Life and Non-Life Insurance forecast
The non-life insurance market is expected to grow at a rapid CAGR of 11.7% between 2016 and 2021). At US$ 39.8 billion in 2021, the segment will comprise 90.4% of the total insurance market, an increase of 2.8 ppts from 2016.
During the forecast period, the life insurance GWP is projected to grow at an annual average rate of 5.3% to US$ 4.2 billion.
Insurance Penetration and Density
Insurance penetration in the region is forecasted to expand from 1.9% in 2016 to 2.5% in 2021. The expansion is driven by an improvement in penetration of non-life insurance to 2.3%, while that of life insurance is expected to remain stable at 0.24%.The penetration rates continue to remain below the international average, presenting immense scope of growth. Insurance density in the region is anticipated to increase at a CAGR of 8.4% to US$ 729.6, of which life insurance density is projected at US$ 69.7 and non-life density at US$ 659.9.
To download the report, please click here.