May 2017
The GCC retail sector continues to remain an active contributor to the region's economic development. Although the sector is experiencing a slowdown, the long-term fundamentals of the sector remain strong and are expected to grow steadily through 2021. A favorable demography, high per capita income and an active tourism industry have attracted renowned international retail brands to the GCC. Changing consumer preferences and proliferation of digital devices are further reforming the region's retail landscape. The numerous mall developments in the pipeline and growing penetration of modern store formats are a testament to immense opportunities in the sector. Furthermore, government efforts to encourage foreign investments, to strengthen tourism infrastructure and prevent entry of counterfeit products are lending impetus to the GCC retail sector.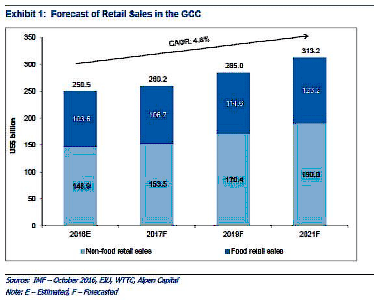 Industry Outlook
According to Alpen Capital, size of the GCC retail sector is forecasted to grow at a CAGR of 4.6% from US$ 250.5 billion in 2016 to US$ 313.2 billion in 2021. After witnessing a drop in 2016, retail sales are likely to grow at a slow pace in 2017, in view of the prevailing economic environment. Nevertheless, the sector is expected to recover in 2018 and grow steadily through 2021 driven by the expected rise in population, international tourist arrivals and per capita income.
GCC Retail Sales
Between 2016 and 2021, non-food retail sales are anticipated to grow at an annualized rate of 5.3% led by the increasing number of youngsters and expatriates, who are propelling demand for innovative, trendy and international consumer products. During the period, food retail sales are likely to grow a CAGR of 3.5%, driven by the expanding consumer base and demand for health foods. The GCC population is expected to grow at an annualized rate of 2.3% between 2016 and 2021. An expanding consumer base, comprising a high proportion of young and working-class, is the major growth driver for the retail sector. GDP per capita (at current prices) in the GCC is projected to expand at a CAGR of 4.3% during the forecast period and is also likely to drive the growth of the sector. Going ahead, an anticipated recovery in economic conditions is likely to boost consumer sentiments and spending.
Country wise Retail Sales
During the forecast period, total retail sales in the GCC nations are projected to grow in the range of 3.3% to 5%. Saudi Arabia and Bahrain are expected to register the fastest growth, driven mainly by increase in tourism activity and per capita income.
Supermarket/Hypermarket Sales
Sales at supermarkets/hypermarkets are forecasted to grow at a CAGR of 4.3% between 2016 and 2020. A faster growth rate than food retail sales indicate the rising penetration of such stores.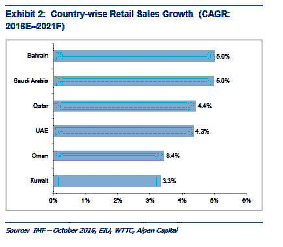 The retail e-commerce market in the GCC is expanding, given the increasing use of internet and social media, better access to secure payment gateways and gradual improvement in the delivery system. The region's e-commerce sale is expected to touch US$ 41.5 billion by 2020[1]. The UAE is the largest online retail market in the GCC with a market share of 53%, followed by Saudi Arabia (14%), Oman (12%) and Qatar (10%). As demand increases, the region is likely to see emergence of new e-tailers and revamp of online portals by traditional retailers
To download the report, please click here.