March 2018
GCC healthcare industry continues to offer a wide gamut of investment opportunities. Though traditionally regional governments played an instrumental role in building the sector, shrinking oil revenues have slowed spending. At the same time, the role of private sector is increasing, encouraged by government incentives, mandatory health insurance and other reforms. Given the changing demographic and epidemiologic structure, mandatory health insurance, and government initiatives to encourage private sector participation, we expect to see steady growth in private sector investments in the healthcare industry, says Sameena Ahmad, Managing Director, Alpen Capital (ME Ltd).
Even though regional governments continue to shoulder a sizeable part of the healthcare expenditure, in the backdrop of budget deficits, the importance of private sector participation is being widely discussed across the GCC nations. With increasing opportunities for the private sector, the healthcare industry is witnessing a surge in mergers and acquisitions. The inorganic route is being adopted by new players to enter the market and by existing providers to expand market share, physician practices and medical capabilities, says Krishna Dhanak, Executive Director, Alpen Capital (ME) Ltd.
Industry Outlook
Current Healthcare Expenditure (CHE) in the GCC is projected to reach US$ 104.6 billion in 2022, registering a CAGR of 6.6% from an estimated US$ 76.1 billion in 2017. Expanding population, high prevalence of Non Communicable Diseases (NCDs), rising cost of treatment and increasing penetration of health insurance are the factors auguring growth.
Given the ageing population and an expected increase in the frequency of visits to clinics for treatment and preventive care, the outpatient market size in the region is predicted to grow at an annualized average rate of 7.4% to US$ 32.0 billion between 2017 and 2022. The inpatient market is anticipated to increase at a CAGR of 6.9% to US$ 45.4 billion. Current Health Expenditure on 'Others' is expected to grow at compounded annual average rate of 5.2% during the forecast period. Growing size of population, and rising cost of medicine and ancillary services will be the forces driving the spending on other healthcare services.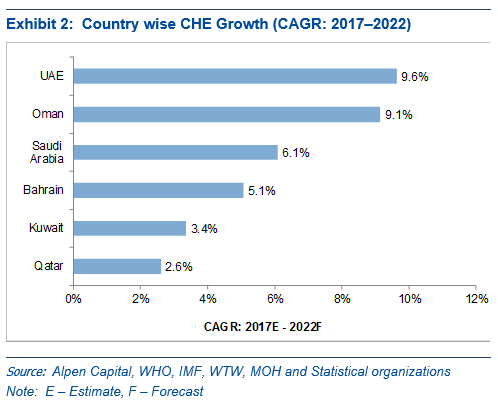 Between 2017 and 2022, country wise CHE is anticipated to expand at annual average growth rates between 2.6% to 9.6%. The growth range is wide due to country-specific projections of population, cost of healthcare and other factors. The UAE and Oman are likely to witness growth rates of above 9%, in anticipation of a fast-growing population, implementation of mandatory health insurance and above regional average medical inflation rates. Saudi Arabia, which is the region's largest market, is expected to see a 6.1% growth in CHE.
In view of the anticipated rise in number of patients, the region is expected to require 12,358 new hospital beds by 2022. This translates into an estimated annual average growth of 2.2% from 2017 to reach a collective bed capacity of 118,295. The high incidence of chronic cases has led to an increase in demand for beds, particularly in specialized areas of care. Although the general hospitals are not running at optimal capacity, the need for beds is rising due to limited availability of specialty hospitals, long-term care centers and rehabilitation centers, among others.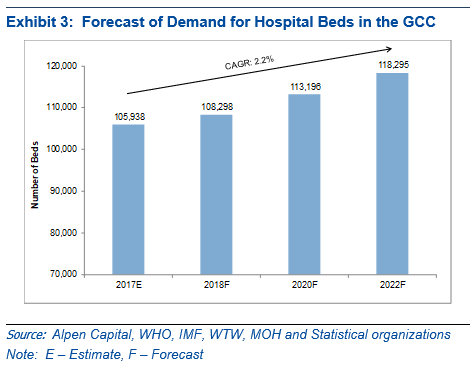 To download the report, please click here.