July 2018
The GCC hospitality industry, which has been under pressure in recent years is expected to gain positive momentum on account of recovery in oil prices, upcoming mega events, increased tourist inflow, positive regulatory initiatives and increased government spending/investments towards the hospitality and tourism sector. GCC countries have well-defined strategies to develop themselves as preferred travel destinations. They are making significant investments into the development of tourism and hospitality infrastructure including airport expansions to increase the handling capacity of anticipated visitor inflow, says Sameena Ahmad, Managing Director, Alpen Capital (ME) Limited.
The GCC hospitality sector is going through a phase of transition. The industry is gearing up for the huge influx of tourists for mega events. Given positive growth expectations for the GCC economies and for the hospitality sector, we expect the revenue as well as operating metrics of the sector to show a steady improvement. The hospitality industry continues to present interesting opportunities to investors. We expect activities across M&A and private equity funding to accelerate in the coming years, says Sanjay Bhatia, Managing Director, Alpen Capital (ME) Limited.
Industry Outlook
According to Alpen Capital, the GCC hospitality market is expected to grow at a 7.2% CAGR from an estimated US$ 22.9 billion in 2017 to US$ 32.5 billion in 2022. Upcoming mega events and government initiatives to boost tourism are the primary drivers behind this growth.
Growth in hospitality sector revenue of individual GCC countries is expected to range from 6.0% to 12.0%. Both UAE and Qatar are expected to witness high revenue growth on account of significant investment activities in the tourism and hospitality sector for the upcoming Expo 2020 and FIFA World Cup 2022. Bahrain and Oman are also expected to grow at a rate higher than the GCC average.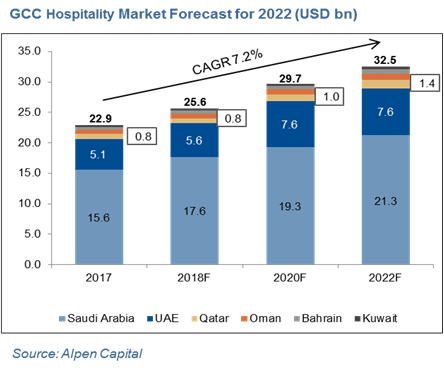 Key operating metrics of the sector, which have been under pressure in the recent past are expected to show a slow but steady recovery supported by the boost in demand. Economic growth and government initiatives leading to increase in tourist arrivals is expected to support growth in occupancy and room rates. Average GCC occupancy is expected to increase by 6 ppt from 62% in 2017 to 68% in 2022. ADR is expected to increase at a CAGR of 1.1% to USD 161 in 2022 whereas the RevPAR is expected to increase at a CAGR of 2.9% to USD 109 in 2022.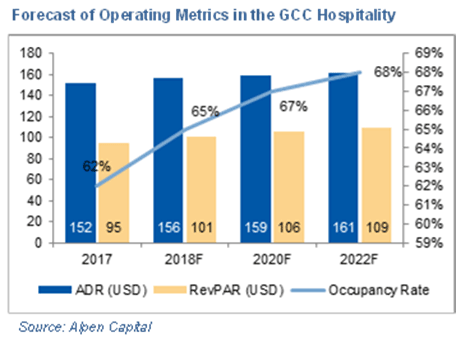 To download the report, please click here.