April 2019
Industry Outlook
According to Alpen Capital, the size of the GCC retail sector is projected to grow at a CAGR of 4.0 per cent from US$ 253.2 billion in 2018 to US$ 308.0 billion in 2023. Retail sales have been under pressure in the recent years but are estimated to recover and grow through 2023.
The growth in retail sales is expected to be driven by increase in population, rise in GDP per capita and an evolving tourism landscape. It is expected to be further aided by the recovery in the oil prices improving the macroeconomic stability and targeted government initiatives such as reviving infrastructure projects, allowing 100 per cent foreign ownership in retail sector and ease in visa regulations for tourist arrivals. Additionally, the upcoming mega events in the region will further propel the growth in retail sales.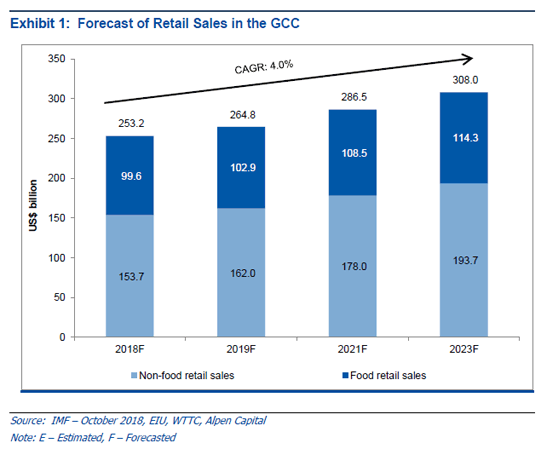 The retail sector is undergoing significant changes with the emergence of e-commerce across the GCC countries. The rise in the number of millennials, working women and expatriate population is driving demand for consumer goods, especially international branded products and global food concepts. Consequently, the non-food retail sales are anticipated to grow at an annualized average of 4.7 per cent between 2018 and 2023, while food retail sales are expected to increase at a CAGR of 2.8 per cent during the forecast period.
Country-wise Retail Sales
During the forecast period, the annualised growth in retail sales in the GCC nations is projected to range between 2.2% and 5.1%. UAE, Kuwait and Qatar are expected to record faster growth driven mainly by increase in tourism activity, GDP per capita and penetration of organized retail stores. The UAE and Saudi Arabia are expected to continue to dominate the retail sales in the region, cumulatively accounting for 76.9% of the total retail sales in 2023.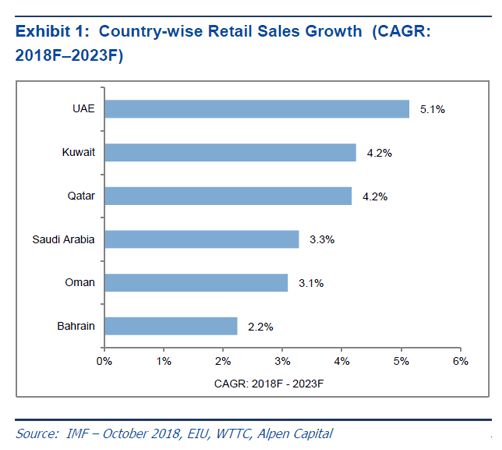 Airport-based Duty-Free Sales
Duty free sales at the Dubai, Abu Dhabi, Doha and Bahrain airports are projected to reach US$ 4.8 billion by 2023, implying an annualized growth of 8.8% from 2018. The strong growth could be attributed to an anticipated rise in passenger traffic due to mega events such as World Expo 2020 and the FIFA World Cup 2022. Moreover, the region also has a wide gamut of attractions to offer to international travellers across various sectors such as leisure & entertainment, sports, festivals, MICE (Meetings, Incentives, Conferences, and Exhibitions).
Luxury Retail Sales
Retail sales of personal luxury goods in the Middle East, primarily led by the GCC nations, is forecasted to grow at an annualised rate of 4.0 per cent during the forecast period. The recovery in oil prices and the subsequent economic revival is expected to lead to growth in GDP per capita, consumer spending power and increase in tourist arrivals. These factors, coupled with the initiatives taken by the GCC governments to crack down on counterfeit products, will drive demand of luxury products across the region.
Supply Side Estimates – Organised Retail Sales Area
At 80% completion of projected additions to the retail space, 5.2 million sq m of retail space is likely to come up in the GCC in the five years to 2023, taking the total organized retail gross leasable area (GLA) to 20.4 million sq m, which may create an oversupply situation.
To download the report, please click here.