Mar 2023
DUBAI – Mar 20, 2023: Alpen Capital's latest healthcare industry report for the GCC projects the current healthcare expenditure (CHE) in the region to reach US$ 135.5 billion in 2027, implying an annualized growth rate of 5.4% from US$ 104.1 billion in 2022. During the forecast period, CHE in the GCC countries is anticipated to increase at growth rates ranging from 4.4% to 7.4%
UAE-based investment banking advisory firm, Alpen Capital, launched its latest GCC Healthcare Industry report on Monday, March 20th which features forecasts on the sector, recent analysis on trends, growth drivers and challenges facing the segment. It also profiles some of the renowned healthcare companies in the region.
The report was launched over a webinar followed by a panel discussion featuring Krishna Dhanak, Managing Director, Alpen Capital; Dr. Raza Siddiqui, Group CEO, Arabian Healthcare Group & Executive Director, RAK Hospitals; and Vivek Shukla, Senior Growth Advisor for Healthcare Boards and CXOs. Sameena Ahmad, Managing Director, Alpen Capital (ME) Limited moderated the discussion
"The GCC healthcare industry is expected to grow at a healthy pace owing to a rise in ageing population, improving economic activity, increased focus on preventive care and mandatory health insurance. While digitization and public-private collaborations have made a progressive impact, the resurgence in demand for elective surgeries, a burgeoning medical tourism industry, and an intrinsic demand for treatment of non-communicable diseases (NCDs) are likely to support growth. We anticipate that the region will offer an array of investment opportunities on the back of privatization initiatives and increasing adoption of technology to create alternative healthcare models", says Sameena Ahmad, Managing Director, Alpen Capital (ME) Limited.
"The GCC healthcare industry is currently in a phase of transformation moving from a curative care to preventive care model, credited to increased health awareness levels and high incidence of NCDs. It is also undergoing significant digital transformation as it has been a key focus area of the GCC governments. Regulatory authorities, in collaboration with private institutions, are investing in smart technologies to diversify the provision of healthcare services. Organizations are establishing strategic plans to set up integration of data and leverage cross-functional capabilities that will not only strengthen their competitive advantage but also encourage the establishment of integrated healthcare networks. Going forward, the focus is likely to be directed towards value-creating opportunities with larger players targeting small to mid-sized players as well as tech-enabled service providers", says Krishna Dhanak, Managing Director, Alpen Capital (ME) Limited.
According to Alpen Capital, CHE in the GCC is estimated to have grown at a CAGR of 9.5% between 2020 and 2022 to reach US$ 104.1 billion. The two-year period, when the healthcare sector was primarily combating the pandemic, recorded a high growth in inpatient and outpatient levels. Healthcare expenditure in the GCC is further projected to reach US$ 135.5 billion in 2027, growing at a CAGR of 5.4% from 2022.
The region's expanding population base, high incidence of NCDs, rising cost of treatment, rising medical inflation, and increasing penetration of health insurance are expected to augur growth. Additionally, factors like the anticipated rebound in economic activity, increased health awareness amongst the public, and preventive-care strategies by the regional governments will support the demand for healthcare in the long-term.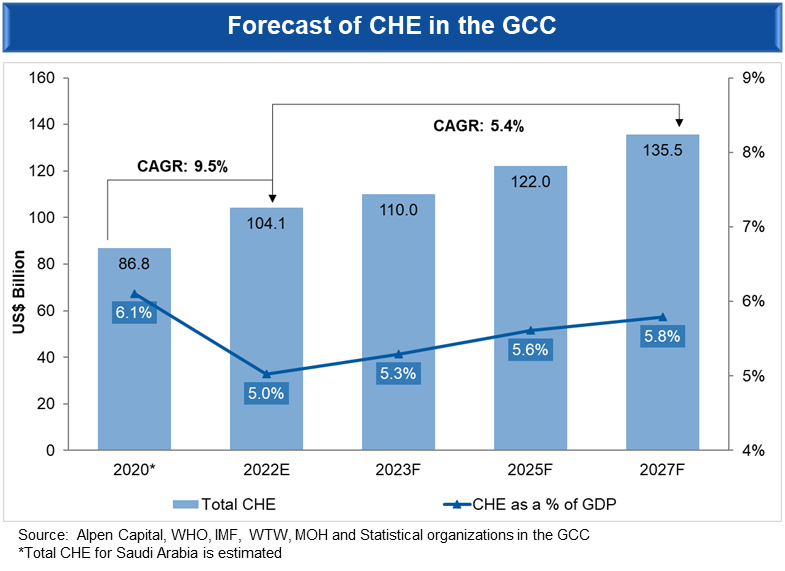 Growth rates among the GCC nations varies widely owing to country-specific population projections, economic conditions, cost of healthcare, and prevalence of underlying diseases among other factors.
UAE is likely to witness the highest growth rate of 7.4% compared to its GCC peers in anticipation of a fast-growing population, increased and wider coverage of mandatory health insurance and high medical inflation rate. The market rankings are expected to remain unchanged, with Saudi Arabia and the UAE dominating the region's CHE with a combined share of 79.6% in 2027.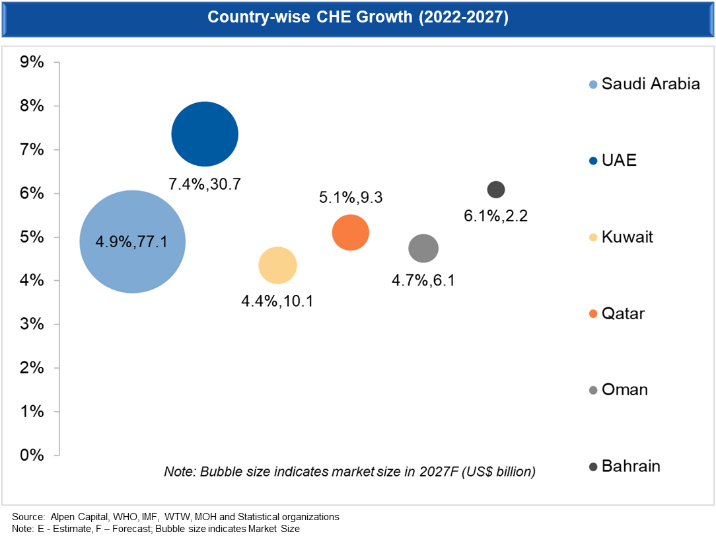 CHE of Qatar, Bahrain, Oman and Kuwait is expected to grow at a CAGR of 5.1%, 6.1%, 4.7% and 4.4% respectively during the forecast period
Between 2020 and 2022, the GCC is estimated to have added 1,846 hospital beds. In view of the anticipated rise in population, the region is likely to require 12,207 new hospital beds by 2027. This translates into an estimated annual average growth of 1.9% since 2022 to reach a collective bed capacity of 133,731.
The report estimates that Saudi Arabia and UAE are likely to witness a demand of over 8197 and 1584 new hospital beds. While most of the GCC countries are likely to experience demand for new beds, the requirement of beds in Qatar is expected to remain flat amid lower than average population growth.
The report highlights that the rapid response to mitigate the dual economic impact of the pandemic has fueled a broad-based recovery in the GCC economies. Increasing life expectancy at birth, improvements in infant mortality rate and an ageing population are the key demographics driving the region's healthcare system. Sizable infrastructure investment programmes by the GCC nations and increased purchasing power are expected to further drive growth. Additionally, promoting the region as a hub for medical tourism and adoption of national health insurance strategies would increase adoption and utilization rates of private hospitals and healthcare services.
However, the healthcare industry is not devoid of challenges. It continues to remain highly reliant on foreign workers for its healthcare personnel needs across medical specialties. The report also notes that the region's high reliance on imports exposes it to global price fluctuations in cases of supply chain disruptions. Furthermore, the cost of healthcare services in the GCC has continued to rise due to increased demand for complex treatments, high dependence on imports, and a lack of specialized treatment centers.
GCC governments are encouraging the involvement of private players through PPP model as part of their long-term strategies aimed at capacity expansion, and enhancing the delivery system. They are also advocating preventive care to help ease the burden on hospitals and existing healthcare resources. The GCC nations have been investing heavily in technology as a key enabler for developments in the healthcare space. The region has started making use of early diagnostic tools and more accurate predictive models for health assessment and management, while innovators continue to harness smart technologies to enhance preventive care.
As the GCC healthcare sector continues to mature, it is moving towards a value-based care model that places patient-centric outcomes at the core of growth strategy. PPPs have brought about a shift in care delivery that is likely to transform the sector and differentiate market participants in their ability to offer services, scalability and sustainability. This is likely to drive competition and require organizations to establish strategic plans for value-creating opportunities, leading to the industry witnessing increased mergers, acquisitions and consolidation.
To download the report, please click here.